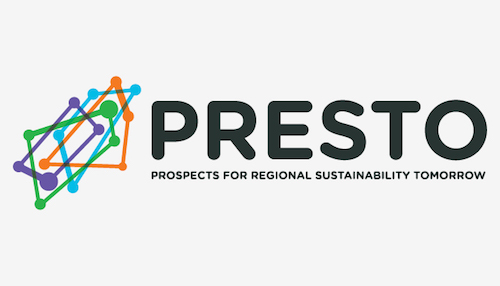 Baltimore-Washington, 2040: New Report Shows that Planning for Future Uncertainties is Key to a Thriving Region
April 18, 2018
College Park, Md.—The University of Maryland's National Center for Smart Growth (NCSG) has released a report that outlines four possible future scenarios for the Baltimore-Washington region and how they might impact quality of life across the state. The landmark, 5-year project, called Prospects for Regional Sustainability Tomorrow (PRESTO), reveals how regional responses to large-scale, uncertain phenomena—such as autonomous vehicles, high fuel prices and government regulation—could impact economic, social and environmental health. The report will be unveiled Wednesday to Maryland Governor Larry Hogan and regional stakeholders at the Smart Growth @ 20 workshop in Annapolis.
Using a highly sophisticated, interconnected modeling suite, PRESTO is one of only a handful of efforts globally to simulate future conditions by playing out how key factors, or "driving forces", could potentially shape a region. Regionally, it is the first time that economic, land use and transportation drivers have been connected to environmental and equity outcomes, connecting the dots between commute times and greenhouse gas emissions or housing trends and nutrient loading. Focusing on land use change, mobility, equity and environment, PRESTO presents a baseline scenario—which projects a continuation of current growth management—and four alternative futures that the Baltimore-Washington region may face in 2040: high-level automation (nicknamed "Revenge of the Nerds"), high-tech sustainability ("Blue Planet"), deregulation ("Free for All") and scarcity ("Last Call at the Oasis").
The future scenarios offer radically different outcomes for the region. The Revenge of the Nerds scenario envisions a region dominated by low fuel prices and new technology, as well as relaxed government regulation. The popular adoption of autonomous vehicles increases highway capacity and dramatically reduces congestion compared to the baseline. Increased mobility and relaxed regulation on development creates an exodus from city suburbs into more rural areas. Last Call at the Oasis shows a very different future, where high gas prices spur investments in transit and strict land use controls, concentrating both households and jobs in the inner suburbs and creating lower levels of pollution. Hands-off government sets the tone in Free for All. Low government regulation, coupled with lower fuel prices, results in development encroaching into farms and forests; this scenario sees an increase in housing affordability, but also air pollution and nutrient loads. Blue Planet provides the most sustainable scenario, where high fuel prices, in turn, fuel investments in transit and renewable energy, spurring local governments to increase housing capacity in the inner suburbs.
While each scenario presents different outcomes, several common themes emerged. According to PRESTO researchers, the land-supply crunch is very real and where the region expands development matters; opening housing capacity—and increasing affordability—in the inner suburbs will have positive impacts on several sustainability indicators. In addition, the inevitability of emerging technologies requires a robust, well-represented group—including urban planners—at the development table to ensure that innovations, capacity and infrastructure are properly aligned. However, both road and transit investments must be made carefully and strategically; as the research shows, just because it is built doesn't mean they will come. Transit investments outside the beltways, for instance, would be less impactful than within the core. Environmental impacts—such as air pollution and land preservation—look to be very complex balances and will require sound, thoughtful policy.
Unlike traditional regional plans, which focus on a desired result and then develop a plan to get there, the approach taken by PRESTO researchers stresses the importance of accounting for these uncertain conditions that policymakers may encounter along the way. Researchers purposefully stretched the limits of plausible futures to create more useful, productive planning exercises.
"Because we tested some extreme infrastructure and land use options, we have gained new insights into their intended and unintended consequences," said Uri Avin, research professor at NCSG. "These are the building blocks for future strategies that are robust enough to cope with a changing world."
While the idea of PRESTO is not to predict which future will come true, researchers hope it will help guide policymakers in how they prepare. It also sets the stage for formulating alternative, more sustainable scenarios for the region, which include identifying and promoting policy decisions that could boost sustainable practice.
"PRESTO is part of a long-standing effort at the National Center for Smart Growth to promote smarter and more sustainable development using science and advanced computer models at the mega regional scale," said Dr. Gerrit-Jan Knaap, Director of the NCSG. "This allows us to go beyond micro scale issues such as walkable neighborhoods, transit-oriented development and opportunistic land preservation to larger scale systemic issues such as transportation technology, energy prices and regional development patterns.  What's more, it is clear that there is no organization that is addressing these issues in the Baltimore-Washington area at this critical scale."
Also, read – Researchers: Urban Sprawl Could Impact D.C./Baltimore Housing Market By 2040
Learn more about PRESTO and read the full report, here.