Current Projects

2020  –  2021 School Year  
This year, PALS has partnered with four Maryland clients: Prince George's Parks & Recreation, Prince George's Planning Department, Maryland Department of Planning, and Maryland Department of Natural Resources. 
Despite the challenges of Covid-19, the PALS program is continuing to work with multiple jurisdictions across multiple levels of government bringing together a variety of projects across a variety of disciplines. 
In Fall 2020, students in the University's School of Information Sciences, the College of Agricultural & Natural Resources, and the School of Architecture are working on projects covering urban and hydroponic farming, cultural landscape identification and documentation, the creation and implementation of farmers markets in the County, turf grass management, and senior access and wellness.  These projects are engaging both undergraduate and graduate students, and their work will provide invaluable benefit to the county and its residents.
In addition to Prince George's County, PALS is also working with the Maryland Department of Natural Resources on projects throughout the state.  Projects which are sponsored by MDNR provide students an opportunity to work on projects which are in the broader state.  Notable projects this year will encompass work around coastal flooding, UX/UI design for coastal flooding identification apps, the impact of Covid-19 on air quality in Prince George's County, the benefits of tree plantings in Baltimore County, as well as work on a rating system for Baltimore County Public Works Department.  These projects will engage students across three schools, at both the undergraduate and graduate level.
In total, the Fall 2020 semester will engage over 70 students, on more than 14 projects, in jurisdictions across Maryland.  Many, if not all of these projects, will be completed in large part virtually due to the Covid-19 pandemic, but it is anticipated that the challenges presented by this new learning environment will ultimately result in enriching experiences for both students and the jurisdictions.  
News
"Student Aquaponics Project Could Help County Grow Urban Agriculture in Empty Buildings" December 2, 2020
"A Long Life for Long Branch- Tools to Preserve Independent Retailers, A graduate urban planning and studies class project under "Preserving Community Value of Ethnically Diverse Retailers in Long Branch" by the National Center for Smart Growth and UMD Partnership for Action Learning in Sustainability, 2019."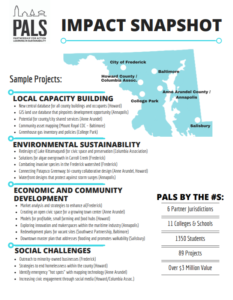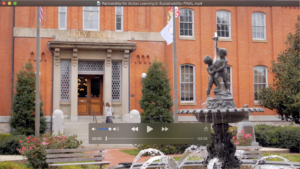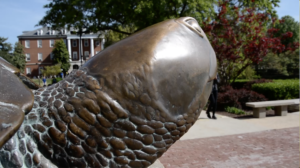 Videos