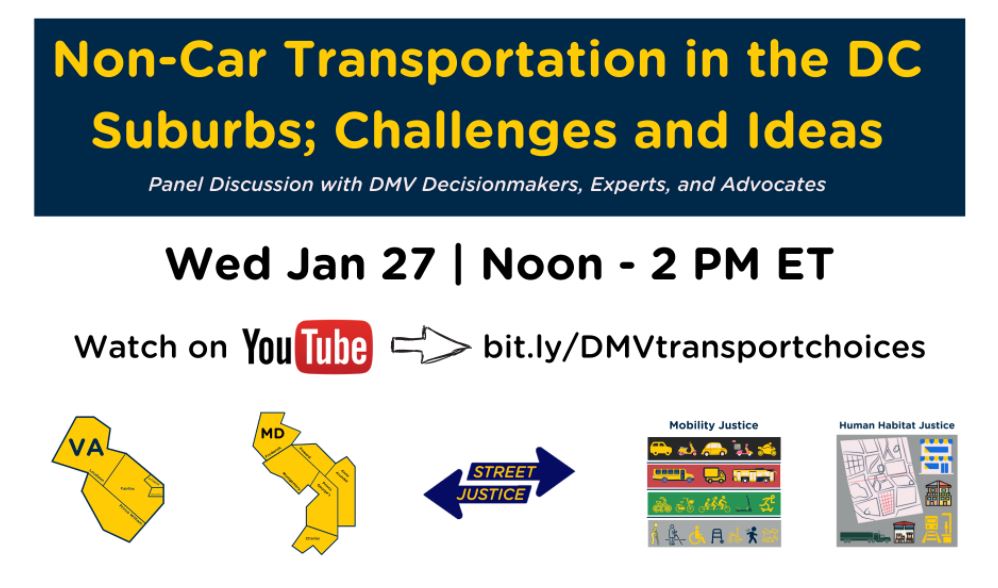 Dr. Sevgi Erdogan to participate on panel discussion about non-car transportation in DC suburbs
Street Justice is hosting a panel discussion — Non-Car Transportation in the DC's Suburbs; Challenges and Ideas — on Wednesday, January 27th from Noon to 2 PM ET. Dr. Sevgi Erdogan, Director of the Transportation Policy Research Group at NCSG, will participate.
Participants include local elected officials, subject matter experts, and advocates. Street Justice founder and reporter Gordon Chaffin will moderate two sessions.
The goal is to inform and equip viewers: identifying projects, policies, and systems where citizen participation can push for more transportation options, more environmental sustainability, and more livable communities where travel is safe and healthy.
SCHEDULE
Intro: Electric Vehicles + Clean Grid Aren't Enough (5 mins)
Panel 1: Elected and Appointed Officials (40 mins)
Panel 2: Subject Matter Experts, Government Staff, and Advocates (1:15)
Paolo Belita; Prince William County, VA Transportation Department [Bio]
Ralph Buehler; Virginia Tech School of Public and International Affairs [Bio]
Brianne Eby; Eno Center for Transportation [Bio]
Sevgi Erdogan; U-MD School of Arch, Planning, and Preservation [Bio]
Shyam Kannan; WMATA, Managing Director of the Office of Planning [Bio]
Jason Groth; Charles County, MD Department of Planning and Growth Management [Bio]
Joe McAndrew; Greater Washington Partnership, Vice President for Transportation [Bio]
Beth Osborne; Transportation for America
Jenny Schuetz; Brookings Institute, Metropolitan Policy Program, Future of the Middle-Class Initiative [Bio]