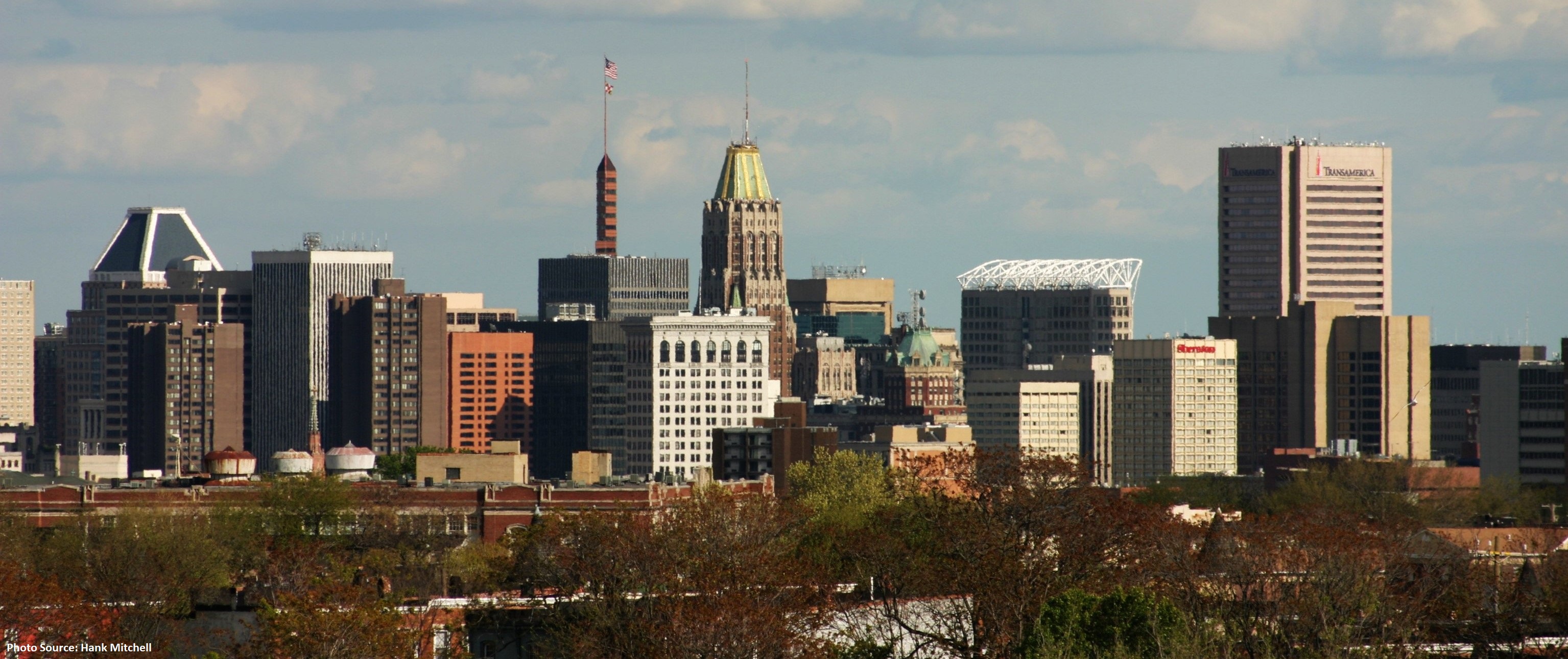 Plan for a "Smarter Baltimore" will leverage technology to improve quality of life
College Park, MD — Four of Maryland's leading universities are developing a plan that applies cutting-edge technologies—such as free public internet, smart street lights and innovative transportation hubs—to improve the lives of residents in West Baltimore. Led by the University of Maryland, College Park, and supported by a grant from the National Science Foundation, the "Smart Cities" initiative will pair smart technology with the latest research in equity, health and urban planning to outline a roadmap for city policymakers as they work to increase quality of life in Baltimore. Other universities involved include the Center for Government Excellence (GovEx) at Johns Hopkins University, Morgan State University and the University of Baltimore.
Baltimore is poised to integrate smart cities technology, with infrastructure components such as fiber backhaul already in place, and 5G wireless technology a future initiative. The university team will evaluate how to couple these existing resources with new innovations to create a pilot smart community. In addition to bringing Wi-Fi to residents and businesses, the team will look at how to enhance school technologies, improve health service delivery, ease traffic congestion, elevate public safety initiatives and increase public transportation access. Technical and social scientists from the four university partners will work with smart city technology providers to guide recommendations.
"We know from other places that new technologies can enhance the quality of life of city residents," said Dr. Gerrit-Jan Knaap, project lead and director of the University of Maryland's National Center for Smart Growth. "How to do that in Baltimore in an equitable and effective way is what this study is intended to identify."
"We are excited to hear the news that Morgan will be a part of the NSF-funded planning grant that proposes a research center focused on developing 'Smart Cities,'" said Michael G. Spencer, Dean of the Clarence M. Mitchell Jr. School of Engineering at Morgan State University. "With Baltimore poised to implement smart technology, such a center will be a great resource for all citizens of Baltimore."
Central to this effort will be engaging Baltimore residents in the design, use and evolution of technology resources. The university team will engage with West Baltimore residents to understand which technologies would improve their quality of life and have the potential to become a sustained part of their community. Coupled with comprehensive research on the impact of smart city investments, the residents' insight will help to inform the city's strategic plan.
"The opportunity to use community-based knowledge and data to best deploy and integrate smart technology in our neighborhoods is exciting," said Seema D. Iyer, who oversees the Baltimore Neighborhood Indicators Alliance at the University of Baltimore. "Many of our neighborhoods are looking for ways to address entrenched issues while building capacity to use technology to do so."
While the plan will focus on the area of West Baltimore, the university team expects their findings to have city-wide and national implications. In particular, their approach will address the "digital divide" that often accompanies the adoption of smart technology, in which disadvantaged populations often have less access or ability to utilize the technological resources. Their plan will ensure that the implementation of smart city technology increases access to opportunity and shapes social mobility, particularly for young people in low-income areas.
"By leveraging existing technologies and mobile applications, we will be able to gather rich behavioral data, revealing hurdles that residents experience on a daily basis with the urban infrastructure," says Dr. Vanessa Frias-Martinez, assistant professor at the UMD College of Information Studies and co-lead on the project team. "We will share these findings with decision makers and the residents to raise awareness, empower residents and shape the smart city plan in a way that will truly be accessible and beneficial to the community."
"Partnering with other leading institutions, GovEx will bring our expertise in data management to the discussion around creating community-based solutions in West Baltimore that will be meaningful and sustainable," said Katherine Klosek, Director of Applied Research at GovEx. "Because we are building on best practices from cities that have already explored Smart Cities technology, we have a unique perspective to address critical aspects of smart cities planning."
The team will work closely with a number of stakeholders on this effort, including the mayor's office, Baltimore city planning, Baltimore Department of Transportation, Maryland Transit Authority, Mt. Royal Community Development Corporation, and Upton Planning Committee.
"The possibilities for smart technology solutions are endless, and we are beyond excited about the doors this will open for the city and the residents and visitors to Baltimore City," said Baltimore Mayor Catherine Pugh. "I know that to fully become a smart city requires careful planning, enlightened collaboration, innovation and lots of hard work; these challenges are opportunities for us, so I look forward to the smart growth and development solutions that will grow from this initiative."
###