Public Art Reston and Reston Museum Present "Reston's Public Art: An Interactive Discussion"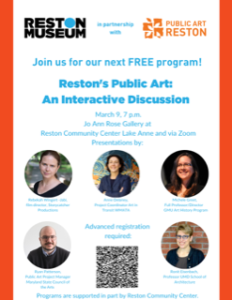 Reston, VA – Public Art Reston and Reston Museum proudly present "Reston's Public Art: An Interactive Discussion" at Reston Community Center's Jo Ann Rose Gallery and via zoom on March 9th at 7 pm. This free program will use the artwork of Reston's underpasses as a starting point to engage the community in a discussion of public art as placemaking.
The program will feature presentations from life-long Restonian Rebekah Wingert, a Peabody award-winning filmmaker and president of Storycatcher Productions; Anne Delaney, former executive director of Public Art Reston and Project Coordinator,  Art in Transit Program, Washington Metropolitan Area Transit Authority (WMATA); Michele Greet, Art History Program Director and specialist in Modern Latin American Art, George Mason University; Ryan Patterson, Public Art Project Manager, Maryland State Arts Council; and Ronit Eisenbach, Professor of Architecture, Kibel Gallery Curator and Maryland Creative Placemaking Collaborative Director, University of Maryland.
"Since its founding in 1964, Reston's visual art has been a staple of its neighborhoods and public spaces. Speakers will discuss specific artists but will also place artists and Reston into context. What stories can the art of the underpasses of Reston tell us? How have they shaped Reston's community? What influenced the artists who have created art in Reston? Those who attend will not only get to hear the presenters answer these questions, but we hope, will also provide their own interpretation to this discussion." – Alexandra Campbell, Executive Director, Reston Museum.
Those attending virtually should send an email to info@restonmuseum.org to register and receive the Zoom link.
About Reston Museum
Reston Museum is a 501(c)(3) nonprofit organization dedicated to preserving Reston's past, informing the present, and influencing the future of Reston. Reston Museum preserves a collection of archival material and artifacts related to the history of Reston, many of which are exhibited at the Reston Museum.  Located at Lake Anne Plaza,

Reston Museum is open Tuesday through Saturday free of charge. Reston Museum also conducts educational and public programming, exhibitions, and public events including the Lake Anne Cardboard Boat Regatta, the Reston Home Tour, and Founder's Day. For more information, please visit www.restonmuseum.org
About Public Art Reston
Public Art Reston, a non-profit founded in 2007, is committed to raising awareness about the role of public art in the community. Its mission is to be a catalyst for public art that inspires, engages and connects. The organization documents existing public art, commissions new public artworks and supports the creation of works by other community stakeholders. Over the past 14 years, its work has been guided by a Public Art Master Plan for Reston, adopted in 2008. For more information about Public Art Reston's projects and programs, please visit www.publicartreston.org