Bethany Swain
– UMD –
Bethany Swain is a nationally recognized photojournalist, multimedia producer and educator who spent most of her career innovating at CNN. Now she focuses on inspiring the next generation of storytellers, from documentary projects to sharing her love for Snapchat.
While at CNN, Swain traveled thousands of miles — from Afghanistan to the presidential campaign trail. She won dozens of awards during her 10 years as one of the only women photojournalists at CNN, including the first woman named Video Photographer of the Year by the White House News Photographers Association. Her shooting, editing and storytelling skills have been honored dozens of times, including by National Press Photographers Association (NPPA), Society of Professional Journalists (SPJ) and Broadcast Education Association (BEA). In 2014, she was nominated for an Emmy®.
Swain has held leadership positions with Women Photojournalist of Washington (WPOW), American Journalism Review (AJR), NPPA, WHNPA and Critical Exposure. 
She was the faculty advisor who helped launch Stories Beneath the Shell, SBS News and the NPPA UMD student chapter. She is a leader with Poynter's Teachapalooza conference, an Elevate teaching fellow and an ADVANCE fellow.
She is proud of the over 75 awards honoring the photojournalism, storytelling and reporting by ViewFinder, the innovative capstone class based on the "In Focus" series she created at CNN. The "In Focus" pilot project was the first HD production produced at CNN's Washington, D.C., bureau. Her students' work has been recognized with Student Production Honors by NATAS, the Emmy® organization, as well as awards from regional and national SPJ Mark of Excellence, BEA, NPPA, WHNPA and Gracies.
Swain's ViewFinder students create in-depth visual journalism projects, including a year-long investigation into Maryland's opioid crisis. Parts of the project aired on numerous television stations around the country, including as an hour-special on Maryland Public Television. "Strength and Shame: Inside Maryland's Opioid Crisis" is the largest video project to come out of the college.
The NPPA honored Swain in 2017 with the Robin F. Garland Educator Award for outstanding service as a photojournalism educator. She was also recognized with a Making A Difference award for service to the University of Maryland campus community and beyond. Besides teaching the Advanced Video Storytelling class and advising the UMD NPPA chapter, she is the lead instructor for Journalism 262/603: News Videography.
Prior to CNN, Swain worked at WPTZ in Vermont, WJAR in Rhode Island, and NewsChannel 8 in Washington. Her first job was delivering the Burlington Free Press every morning, starting at age 10 until she graduated from high school in Vermont. Sometimes you could catch her at 5 a.m. reading the paper before she delivered it to her customers.
You can follow Bethany's adventures in and outside the classroom on Twitter and Snapchat at @bethanysstories. And @bethanysswain on Instagram.
Staff Information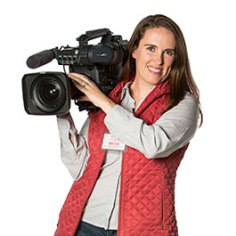 Phone: 202-360-9093

Email: bswain@umd.edu

Address: 2214 Knight Hall College Park, MD 20742